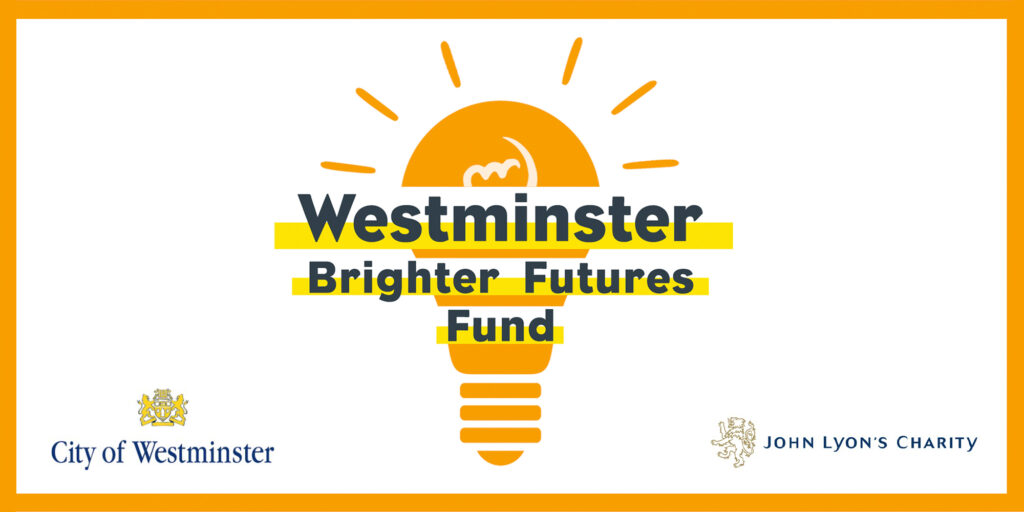 Young Westminster Foundation is pleased to announce that 24 grants totalling £313,000 have been awarded to youth organisations across Westminster as part of the third round of the Westminster Brighter Futures Fund. This investment will provide invaluable support for Westminster's young people and their families over the coming 12 months.
This year, the fund received a total of 39 applications totalling £712,000. The awarded projects were decided by a panel of YWF staff, trustees, funders, partners and young people.
Phil Barron, CEO of Young Westminster Foundation, said: "The sheer volume of applications that the Brighter Futures Fund received this year is testament to the ongoing need for financial investment in services for local children and young people. We hope this year's funding continues to strengthen the fantastic work of youth organisations in Westminster, which in turn helps to enrich the lives of all who grow up in the borough."
Alongside the confirmed grants, the panel also agreed to ring-fence additional funding for LBGTQ+ provision Westminster over the coming year.
This year's funding was made available by Westminster City Council and John Lyon's Charity, with further contributions from Colas Rail, Landsec, Shaftesbury PLC, The Mercers' Company, FM Conway, St Giles & St George, Howard De Walden Estate, The Eyre Estates, Westminster Almshouses Foundation and Total Media.
Young Westminster Foundation would like to thank all of our contributing partners who recognise the importance of investing in young people and help to build an even stronger community in Westminster through cross-sector collaboration.
This grants programme builds upon the findings of YWF's 2020/21 report Our City, Our Future. It has been designed to respond to the identified needs of young people in Westminster, to allow providers to work with Youth and Family Hubs across Westminster and to test approaches to engaging and supporting young people and to sign up to Westminster City Council's Early Help Strategy 2019 – 2022.
This year's panel was chaired by Matt Keane, Partnerships and Capacity Building Manager for John Lyon's Charity. For the second year, the panel included young people who live or study in Westminster. This year, this included two panellists who were attendees of YWF Members, at Avenues Youth Project and Caxton Youth Organisation respectively.
The investment in youth services sits at the heart of Westminster City Council's ambition to create a City for All and contributes to the growing community of like-minded stakeholders investing in young people in Westminster.
Councillor Timothy Barnes, Cabinet Member for Young People and Learning, added: "There is a wealth of opportunities for our children and young people at our youth organisations across the borough. The council is delighted once again to be able to work in partnership with Young Westminster Foundation and contributing partners to provide further funding to these fantastic organisations through The Brighter Futures Fund.
I can't wait to see what these organisations achieve again this year and I encourage our young people, parents and carers in Westminster to take advantage of all the activities and support on offer."
The YYF Members who have been awarded project funding for 2022 are:
Adventure Play Hub
– Play provision for local young people with special educational needs and disabilities (SEND)
Ardhmeria
– 'Together Ardhmeria', supporting immigrant, migrant and refugee young people around friendship-building and educational support
Avenues Youth Project
– 'Girls Hub' sessions offering support and skills-building activities for 13 to 18 year-olds
Cardinal Hume Centre
– 'Homework Club' and focused activities for young people focusing on education and future careers
The Cartoon Museum
– A programme of Health & Wellbeing initiatives, using cartooning and art as the key theme
Doorstep Library
– Reading and literacy projects with families living on the Churchill Gardens Estate in Pimlico
Eat Club
– Cookery-led programmes for young people attending youth clubs in Westminster
Fitzrovia Community Centre
– 'Chatterbox' project, providing early speech and language support for 18 months to 4 year-olds
The Feathers Association
– School holiday programmes at Fourth Feathers Youth & Community Centre
LMK (Let Me Know)
– Workshops for young people focusing on domestic violence and relationship abuse prevention
London Basketball Association (LBA)
– 'BOOST (Basketball for Outstanding Opportunities, Skills and Training)' programme in Westminster
Marylebone Bangladesh Society
– Youth club programmes and activities for local young people aged 8 to 12
Paddington Arts
– 'Arts and Health' project, providing emotional support and creative arts for young people
Paddington Development Trust
– Funding towards 'We're Still Here', a creative participatory project for young people at Grand Junction
Pan Intercultural Arts
– 'Weapons of Choice' arts and performance project with pupils attending Beachcroft AP Academy
Pro Touch SA
– Sports-led programme and training opportunities in Westminster
Sketch Appeal
– Creative wellbeing pilot programme with St Augustine's CE High School
Sport4Health
– Physical and mental health support sessions for young people in the borough
St Andrew's Club
– Weekly open access activities and programmes for club members
St. Vincent's Family Project
– 'Dad's space' – weekly sessions for fathers and children from 0-5 years
Street Doctors
– 'Young Lifesavers' first responder training for members of Westminster Youth Hubs
Treasure Boxing Club
– After-school club with health and fitness activities
Westbourne Family Park Centre
– 'Skills For Life' support for young people in a fun and safe environment
Westminster Befriend A Family
– 'Young Lives, New Starts', supporting young asylum seekers in Westminster
If you are interested in supporting the Westminster Brighter Futures Fund please contact phil@youngwestminster.com.