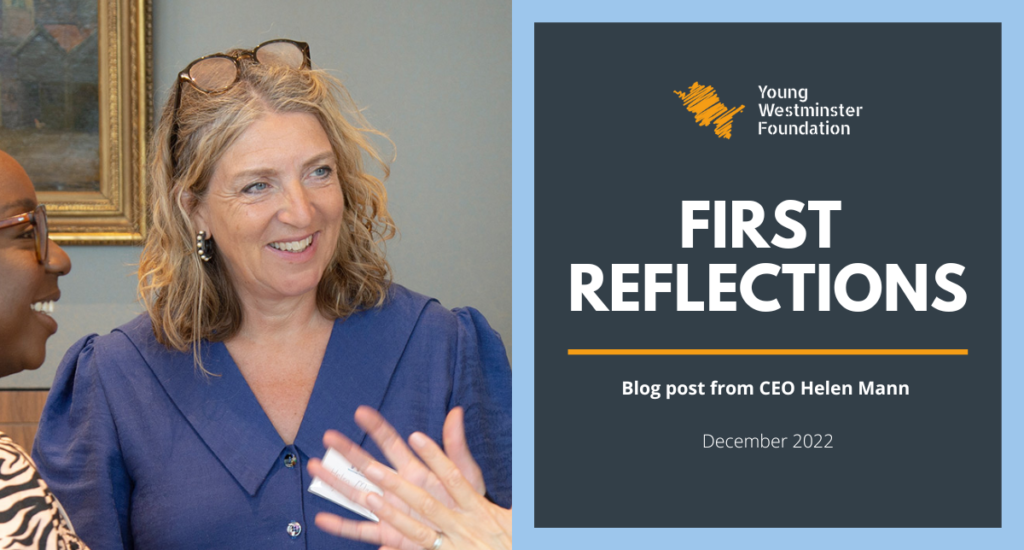 Young Westminster Foundation's new CEO, Helen Mann, reflects on her first month in the role.
In October, we celebrated our fifth anniversary with our Five Years Young event at the National Gallery, together with the Young Westminster community we have grown. With five years since I joined YWF and over five weeks of time in my new role as CEO behind me, it was the perfect opportunity to reflect on our achievements to date and look forward to our vision for the next five years.
I couldn't think of a better way to celebrate and settle me into my speech and new position than seeing so many YWF members, partners and (most importantly) friends in the audience. This, of course, includes the Lord Mayor of Westminster, Cllr Hamza Touzzalle, who we are delighted to have introduced as our very first Patron.
In taking on this role, I recognise the importance of not only continuing the crucial work of the last five years, but also looking forwards to growing and further developing our support and funding. A key part of this is ensuring that our business partners are connected to our work and invited to join our growing community working together for children and young people in Westminster, where they are able to contribute in whatever way they can.
Our recent impact report highlighted the ways the Foundation will continue to strengthen our commitment to the borough. These are key responsibilities that our team will be developing over the next five years in collaboration with the Young Westminster network:
We are a consistent supporter, friend and funder for all YWF Members
We are an ambitious and knowledgable collaborator for Westminster City Council, businesses and wider partners
We are an active listener for local young people and youth workers, responding to emerging needs
We are an engaged amplifier who works with those in power to advocate for local issues
We are a driven fundraiser for investment in life-changing opportunities for young people and brighter futures
Looking ahead to the next year, some of our key priorities will be around developing the workforce in Westminster. Youth workers really are the roots of our community, and we want to ensure local staff have access to training opportunities and support which will make the sector more resilient. We will also be building on Our City, Our Future, with a follow-up piece of research which listens to and reports on the needs of young people growing up in our borough.
As we move into winter, it is clear that the next few months in particular will be challenging for many, as the cost of living crisis and increased fuel bills kick in. I would encourage you to let us know how we can best support you so that we in turn can make the best use of our resources and funding and relay what you tell us back to funders and Westminster City Council.
In particular, we encourage partners who are working in the borough to consider showing their support for local food banks and pantries, which do invaluable work to help keep families fed, in particular in the run up to the festive holidays. You can find information about Westminster's food banks and their details on our website here.
Our annual Brighter Futures Fund closed last week, with an unprecedented 52 applications from YWF Members, totalling over £1 million. We know that the need to support our members work is greater than ever, and this really demonstrates how the demand for these services will only continue to rise. Our grants panel will now begin the decision-making process to allocate this year's funding, supported by Westminster City Council, John Lyon's Charity and wider partners.
Investment in this work is one way our business partners really can make a tangible difference to the lives of young people. If you would like to support the fund, please get in touch with us to either make a one-off donation or speak with us about partnering long-term.
We are delighted to have our Growth Partners within the YWF community directly supporting these projects, having pledged a commitment of over £500,000 over the coming three years. A huge thank you to Astrea, The Aziz Foundation, British Land, Capco, Capital Arches Group, Derwent London, Eyre Estate, FM Conway, GPE, Grosvenor, The Howard de Walden Estate, Landsec, The Mercers' Company, Shaftesbury and Veolia for their generous commitments.
My closing reflection around the work that is happening all around Westminster is that it always reminds me that actually going out and meeting people is the best bit of my job. Westminster is a vibrant and diverse borough and after five years, I still love getting out and about in the borough.
In the busy run up to the holidays, I hope to see many of you whilst out and about, whether it is at our festive celebrations for YWF Members, at our Youth Hubs, at the switch on of Christmas lights in the West End, or even at a meeting at City Hall.
The YWF team are always available to discuss all opportunities, and we would love to hear from you, if you have any ideas or need additional support in the year ahead.