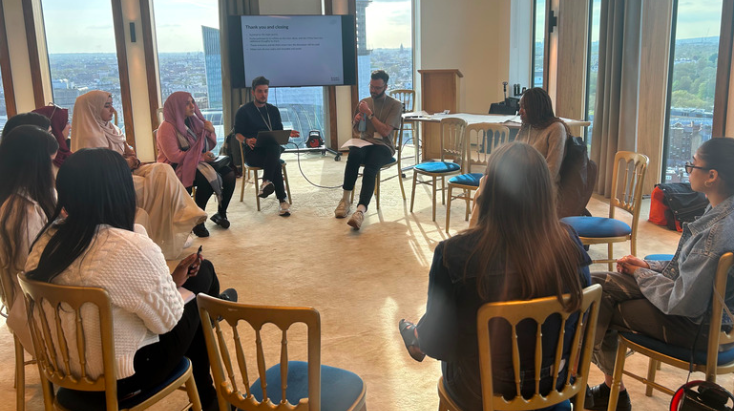 On Tuesday 2nd May we held our third and final training for our Young Westminster Researchers, together with research partner Rocket Science and hosted by the Lord Mayor of Westminster, Cllr Hamza Taouzzale at his parlour in City Hall.
Young Westminster Foundation has pledged an ongoing commitment to our members, partners and young people to conduct a participatory, peer-led needs analysis every three year. We believe that the voices of young people should be at the heart of our decision-making. The research we undertake involves us working with our community to ensure we are listening and responding directly to the ideas and experiences of young people themselves.
The Young Westminster Researchers are a group of local changemakers aged 16-25 who will be leading the research in Westminster to understand the diverse experiences of young people growing up across the borough, post-pandemic and during the cost-of-living crisis. This research will build upon our previous studies A City Within A City (2017/18) and Our City, Our Future (2020/21) in contributing to a hyper-local evidence base for the Young Westminster community whilst growing the skills and confidence of a group of young people.
Hamza spoke on his inspirational journey from being a Youth MP to Queen's Park Councillor and Lord Mayor of Westminster, and how he first became involved in YWF as a Young Westminster Researcher in 2017. He expressed his learnings on being in the first cohort of researchers and what he gained from the opportunity.
He shared tips such as ''As researchers we need to go out and find young people in the places that they reside and feel comfortable in such as their local youth club'' in order to get the most out of this experience, as well as creating a safe space for others to share their opinions and have their voices heard in a fun and engaging way."
Rocket Science, who have collaborated with us for our previous needs analysis, lead the training around how to facilitate good focus groups, including different techniques and the importance of creating open, organic conversations with the participants.
The Westminster Researchers went on to participate in a focus group to understand their experiences of growing up in Westminster centred on barriers and areas of need of in regard to opportunities, diversity and mental health. A really insightful session, hearing their views on important issues within the borough which will feed into their findings.
One of the participants said "Programmes such as YWF Young Ambassador and Young Westminster Researchers have helped me communicate and network more. When I was at school I didn't speak as much but joining the young people programme, I am more confident in speaking and sharing my opinion.''
As well as exploring areas of opportunities valued in the borough, we also dived into the barriers that young people face in Westminster from employability, diversity and representation. "It's important that places are diverse and inclusive and not just say that they are'', said one researcher.
The Young Westminster Researchers will now spend the next 3 months going out and hearing from young people all over the borough before coming back together in the Autumn to analyse and review the findings. We are looking forward to hearing what they uncover.
Thanks to a collaboration of funders who have made this peer research possible – The Howard de Walden Estate, The Westminster Foundation, Kusuma Trust UK, St Giles & St George Education Charity.
If you'd like to find out more about our research or host our researchers in a focus group with your organisations please contact matira@youngwestminster.com or click here.