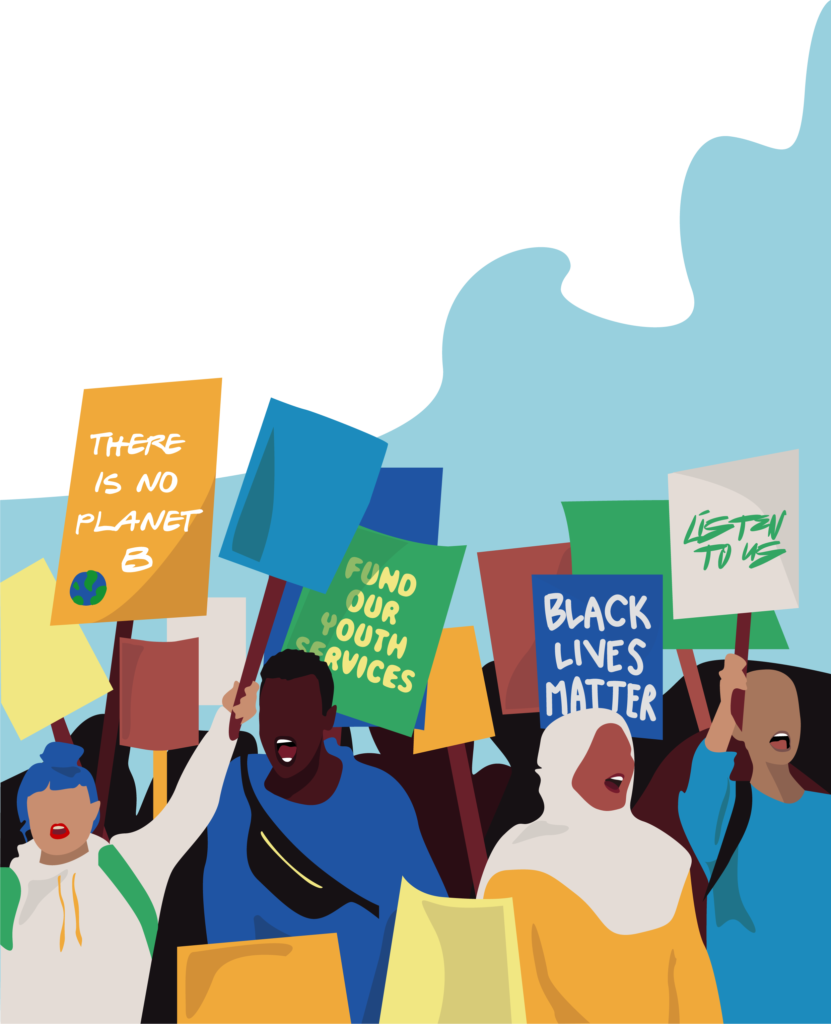 New Our City, Our Future 2023 report finds that more young people are involved in social action in Westminster and feel able to influence change locally, citing their main concerns as crime and safety, the cost-of-living and tackling racism.
97% of young people interviewed took part in a form of social action in the past year. More young people in Westminster feel empowered to influence social and political change than in 2020/21, however there is a consistent number of young people who report feeling unable to influence change and want to see organisations better involving young people in decision making.
Findings indicates worries for young people around their mental health, social media use, vaping and pressure to succeed in education and employability.
The landscape for young people in 2023 is dominated by cost-of-living pressures, with young people reporting being less able to socialise and access activities and families increasingly unable to buy basic necessities.
For the first time in the study's six-year history, 144 parents/carers shared their views and expressed appreciation for the borough's community-based early-years, children's and youth services.
Young Westminster Foundation urges the Westminster community to prioritise more person-centred, targeted approaches to respond to the diversity in experience of Westminster's young people.
City of Westminster, London, October 24th 2023: Young Westminster Foundation (YWF) today launches a new report into the experiences of young people growing up in Westminster over the past year.
Our City, Our Future 2023 trained a group of 15 local young people as peer researchers to co-design and carry out the Foundation's most comprehensive study to date, hearing from 249 young people through peer-led interviews and focus groups. For the first time, 144 parents and carers participated in focus groups and online surveys in addition to 32 youth workers and practitioners.
Working in partnership with research specialist Rocket Science, with support from the University of Westminster, YWF hopes the findings serve as a tool for the wider Westminster community to collaborate, act together and to open up conversations about the needs of young people. Building upon the work already under-way following the previous studies A City Within A City in 2017/18 and Our City, Our Future 2020/21. This work brings together YWF's 80+ member organisations, business partners, Westminster City Council, the Metropolitan Police and NHS. The Foundation believes that youth voice should be at the centre of decision making. Their goal is to identify and address the challenges faced by young people today, all the while ensuring that they are truly at the heart of the conversation.
Yarah Al Silawi, one of the Young Westminster peer researchers who carried out the study said, "interviewing young people for this needs analysis, I realised that they know what they want, they understand what's going on and they want to make a change. Whether for themselves or for the wider community. I ask all organisations to prioritise listening to what young people in Westminster have told us in this report when implementing change. I urge you to support young people in discovering what they are capable of and the power they hold to influence change. This will be vital in continuing to improve our community."
The emerging data reveals several major areas of concern for young people – particularly around their life plans, social action health and wellbeing, access to local services and crime and safety. There are many practical responses outlined in the 'calls to action' including greater engage with the wider networks around young people including parents/ carers and Schools and continued investment in the collaborations and joined up system between voluntary and statutory services in Westminster.
The report highlights a hunger from young people to be better involved in shaping the future of their community. Interviewees commented, "I hope that more people will be willing to help each other out and show compassion to each other" and 'I'd like to see our community coming together by finding new ways of collaborating and working together".
"The report's findings – although sometimes stark – provide us all with tangible ways of move forward" said Helen Mann, YWF CEO. "The experiences of young people in the research are varying, reflecting the disparity and inequality that we already know exists in Westminster. Be that through opportunities around employment, with personal networks remaining a key source of work experience or access to sports, which remain prohibitive to some due to cost. We are enormously grateful to all the young people involved as peer researchers and interviewees and the collaboration of local Funders who made this ambitious project possible".
Dr Brendan King, Impact and Learning Manager at the Westminster Foundation who co- funded the study said: ""The Westminster Foundation is dedicated to improving the young lives of those in the communities we know and to which we belong. In Westminster, finding out what challenges and obstacles these communities face is as important as understanding which programmes and practices work. The skilful interweaving of diverse voices into the report highlights the foundations from which organisations like ours can build, including the role of families, peer relationships and high-quality but affordable services. The rigorous approach to engaging seldom-heard voices encourages others in the sector to do the same by showing good practice examples from which we can all draw. For early intervention to work, we all need to hear young people, understand their needs and ensure our decisions remain informed by their lived experiences."
The report will launch at a young person's Question Time style event on Wednesday 25th October, hosted by the University of Westminster.
FOR MORE INFORMATION CONTACT:
MATIRA ON MATIRA@YOUNGWESTMINSTER.COM
SUPPORT THE WORK OF YOUNG WESTMINSTER FOUNDATION AND WESTMINSTER'S YOUNG PEOPLE:
CONTACT ZAHID@YOUNGWESTMINSTER.COM
ABOUT YOUNG WESTMINSTER FOUNDATION
Young Westminster Foundation brings together youth organisations, young people, businesses, Westminster City Council, schools and the wider community to shape opportunities and create the best services for young people in Westminster, London. Together, the YWF community shares a vision for all young people in Westminster to grow up healthy, safe, and happy with the best opportunities for brighter futures. YWF's 80+ members range from large youth clubs to smaller grass roots organisations; all driven by their passion to provide the best services, opportunities and support for local young people. YWF is part of the growing network of Young People's Foundations (YPFs).
info@youngwestminster.com, Twitter – @youngwestminstr, Instagram – @youngwestminsterfoundation