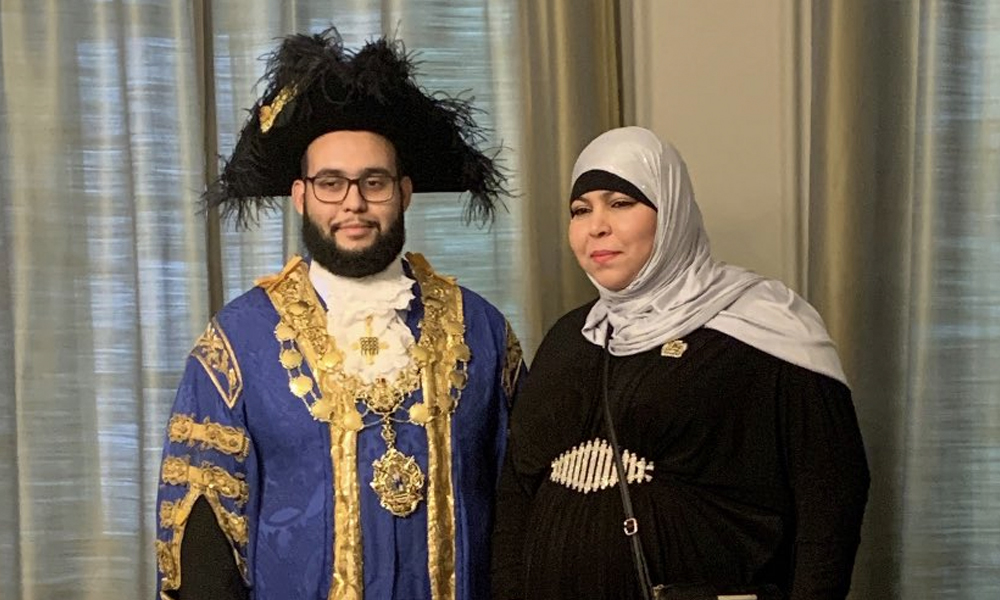 Westminster City Council's new Lord Mayor, Cllr Hamza Taouzzale, has chosen Young Westminster Foundation as his Charity of the Year.
Last night, we attended the full Westminster City Council meeting at Marylebone Town Hall where our trustee, Councillor Hamza Taouzzale, was appointed as the next Lord Mayor of Westminster. Hamza has been instrumental in our work over the past five years, joining us originally as an intern and Young Ambassador.
Hamza said "I am Westminster born and bred. A little under 23 years ago, I was born less than a mile away from this very building in St Mary's Hospital". The 22-year-old member for Queen's Park ward was selected following the Labour Party's recent victory in the local elections, he is youngest ever Lord Mayor, the first from a global majority background and the first Muslim Mayor.
Cllr Taouzzale grew up in Lisson Green, attending Gateway Academy and King Solomon Academy before studying at Goldsmiths and King's College London. "People always ask me, 'where do you want to live when you move out?'" he said, "the answer is the same every time: 'In Church Street!' I'm proud of where I come from… and as you can see it's not held me back."
As part of his speech, the new Lord Mayor announced that Young Westminster Foundation will be his Charity of the Year. We'll be working more closely with him and using the platform of the mayoralty to raise the voice of young people from diverse communities across the City of Westminster and champion the role of youth workers. Together we will fundraise for our Brighter Futures Fund to increase investment for youth clubs and projects.
"Seeing Hamza become Lord Mayor of Westminster made me feel emotional and proud" said Phil Barron, our CEO at Young Westminster. "We know how passionate he is about improving the lives of local young people, I am confident he will be brilliant in this role."
"I'm keen on using my year as Lord Mayor to showcase all that's good – the great people, the potential, the contribution they make to the community" reflected Hamza. We can't wait to work closely with him over the coming year.
Support our Westminster Brighter Futures Fund: Donate now or get in touch with phil@youngwestminster.com
Follow the year ahead for our new Lord Mayor @LM_Westminster