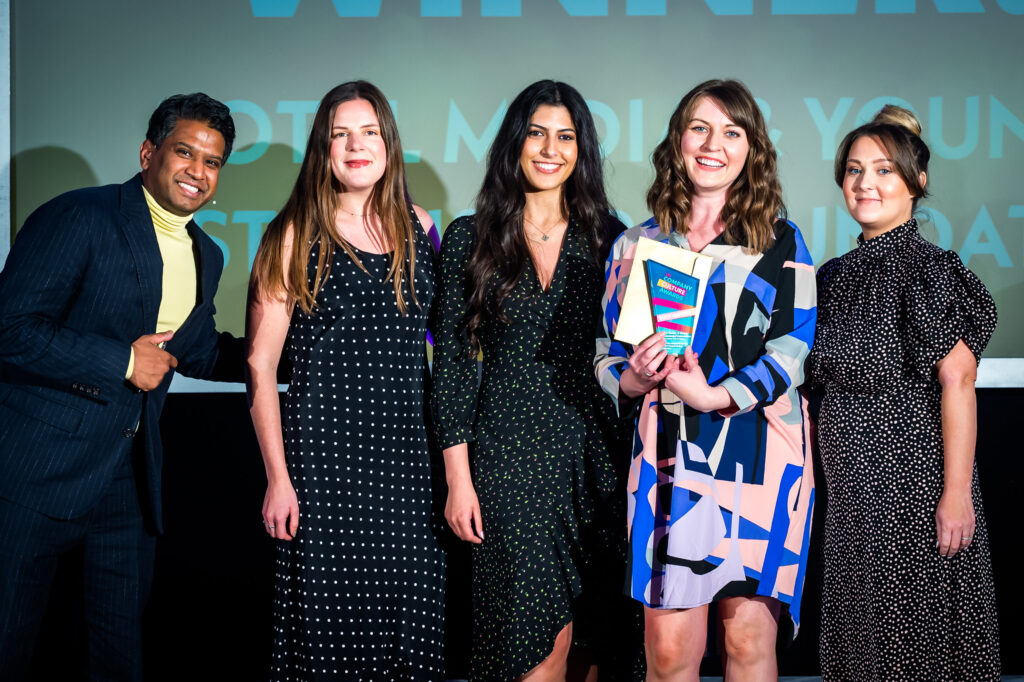 WINNER: BEST CHARITABLE/CORPORATE SOCIAL RESPONSIBILITY INITIATIVE
Total Media & Young Westminster Foundation
UK Company Culture Awards 2022
We are delighted to share that our partnership with Total Media received the award for Best Charitable/Corporate Social Responsibility Initiative at this year's UK Company Culture Awards.
We have built relationships with 75+ businesses across Westminster, fostering a community who care about Westminster's young people to secure long term investment for brighter futures. Our partnership with Total Media remains one of our most innovative – from a fundraising art auction to media skills sharing with young people, and behavioural science research to financial support to help keep youth clubs open.
The Total Media team has maintained a fundamental value of working with communities – listening, learning and being led by the needs of young people and community organisations. We shape ideas together, reflecting on the skills of the Total Media team and the needs within the Young Westminster community.
CEO Phil Barron, says: "It is wonderful to get the recognition for one of our most important and creative corporate partnerships. Many thanks to the Total Media team for your generous support over the past four years."

PARTNERSHIP WITH PURPOSE: OUR JOURNEY SO FAR
We have been the charity partner for Total Media's Outreach programme since 2018, and their contributions have impacted all areas of YWF's work.
Since the beginning of our partnership, we have worked on over 40 projects together. Alongside staff fundraising initiatives and continued support for the Westminster Brighter Futures Fund, our work together includes some of the following highlights:
The Westminster Art Collective
In February 2020, we worked with Total Media and Positive View Foundation to run an art auction under the Westminster Art Collective. The event at the Greenhouse Centre was attended by 250 guests from across Westminster, including many of Total Media's creative network. The collection featured affordable art, donated by a variety of artists and organisations in celebration of Westminster and its youth culture.
A total of £19,000 was raised through the event for the YWF community, with £10k being invested into a new outreach youth programme in Westminster. Outreach youth work involves meeting young people where they are at, in their communities. Youth workers aim to reach out and make contact with young people who may have little access to provision and introduce them to what's on offer. The aim of the work is to enable young people to develop their full potential as individuals and as members of our Westminster community.
#WeAreTogether on the Piccadilly Lights
WINNER – BEST COLLABORATIVE CAMPAIGN DURING COVID-19 AT THE DRUM OOH AWARDS
In May 2020,  during the height of the coronavirus pandemic, an animated artwork created by STIK was unveiled on the Piccadilly Lights, the largest screen in Europe covering 783 squared metres. In an ambitious collaboration with Total Media, LIVEPOSTER and Ocean Outdoor UK, the campaign aimed to raise funds to help young people in Westminster receive the support they needed, in a borough where 1 in 3 young people are growing up in poverty.
The awareness generated by the campaign resulted in YWF securing a £500k partnership with Westminster City Council to deliver a flagship programme to tackle digital exclusion in Westminster together with additional funding from wider corporate partners. The project distributed 1,874 devices to vulnerable young people and families across the borough.
Serious Youth Violence Consultation in North West Westminster
We worked with Total Media's Behave team in an innovative approach which used behavioural science to better understand a key thematic priority for YWF and one of the most pressing issues for young Londoners.
The Behave team worked in partnership with our member and partner organisations to develop a consultation process with local young people to help understand the causes and impact of serious youth violence and to inform community projects to alleviate this.
The qualitative and quantitative insight enables us to test new solutions, secure additional funding to employ a programme manager around serious youth violence and facilitate more effective and positive partnerships between youth organisations, the police, local authority and young people.
Click here to read the Serious Youth Violence Consultation Report.
Our City – Free Sky Media Space
We launched the Our City website in summer 2021, a new website promoting free and low-cost activities to young people across Westminster and Kensington & Chelsea.
Through their relationship with media owners, Total Media managed to secure free, local media space to promote the website to families across the borough. Through a regionally-targeted TV campaign on Sky's On Demand platform, we received £10,000 worth of free advertising space to run the Our City promotional video to homes in the borough. This delivered 230,000 ads to London Households in the borough who had children aged 12-17.
This campaign achieved a click-through rate of over 4% (vs. 0.8% benchmark) during the peak of summer holidays, which was a truly fantastic result, ensuring local families were aware of  opportunities to take part in free activities and programmes.
Training Opportunities & Support
Total Media continue to provide specialist support around communication and media skills for both Young Westminster Foundation and YWF Members.
This includes delivering digital skills sessions for members at the beginning of the pandemic, as specialist training for staff from our Youth Hubs around digital marketing and reporting. We are continuing to bring together the specialisms of staff Total Media and youth organisations in the borough, by launching a skill-sharing programme, which volunteers employees time to work one-to-one supporting a YWF Member.
Employees from Total Media also contributed to the Digital Natives programme in 2021, a dynamic training offer building social media skills for young people who were living or studying in Westminster.
We look forward to continuing our award-winning partnership with Total Media on more projects working towards brighter futures for Westminster's young people.
To find out more about Total Media, please visit their website.
The full list of winners at the UK Company Culture Awards can be viewed here.
If you would like to discuss a partnership with Young Westminster Foundation, please get in touch with Phil Barron at phil@youngwestminster.com.