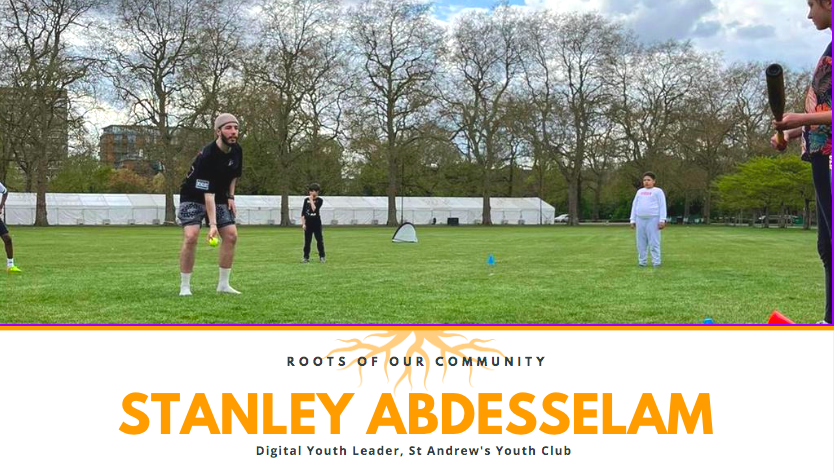 As part of our 5th Birthday Celebration, Stanley Abdesselam Digital Youth Leader at St Andrew's Youth Club, is sharing his journey and experience in the Westminster Community.
What is your favourite thing about the borough of Westminster?
For me, the best thing about the borough of Westminster are the youth services and how they offer something different for people growing up here.
What are some of your own experiences as a young person?
As soon as I turned 4 years old I started to go to a Play Centre which was right by my house and stayed there until I was 18 years old. The Play Centre became a second home to me. I learnt everything I could from there, whether it was playing sports, cooking, gaming, homework and even life skills, such as learning how to control my anger.The Play Centre just gave me a place where I could become someone and the youth workers there always gave me guidance how to become that person. My youth workers at the time, and still to this day are my most important influences. Marcel, Tim and Ian in Lisson Grove Play Centre were more or less my parents and they always kept an eye on me, were always ready to listen to me and ready to put me in my place when I stepped out of line. They always went above and beyond for me and to this day I still can't thank them enough.
What has been your journey to the Young Westminster community?
I knew working as a youth worker was something I wanted to do at a very young age. Being raised in area where there was a lot of crime, it felt at the time as if it was the easier route to go down as my friends were doing it too, so it felt normal. However the youth workers never let me go down that road at all – they would literally wait outside school to bring me in to the Play Centre. It became a beacon of hope me that as long I was in the club I was going to get somewhere in life. I just know if it wasn't for that club, I would not be the person I am today and being able to pass that to other young people, even one young person, is why i wanted to become a youth worker. I began volunteering for my Play Centre at 16, before moving onto work for Edutain during the holidays. A few months down the line, Sarah, the Youth Club Manager at St Andrew's asked if I would like to work at the Junior Club, which I said yes to immediately. St Andrew's just gave me to that homely feeling my youth club gave to me when I was a kid, so I knew this was the place I wanted to stay in.
What impact has Young Westminster Foundation had over the past five years?
Young Westminster Foundation has supplied me with training so I could become more confident and more knowledgeable. They have also been great with in bringing all the youth services together and creating great relationships with all of them.
What do you hope for Westminster's young people over the next five years?
My hope would be for young people to become whoever they want to be. Just for them to know there are youth services around Westminster that will be here to help them with their goals in life.
Why are youth services important to you?
I don't believe they are important, I think they are vital for a young person. They provide that safe space for the young people, whether it is playing football or learning how to cook or just engaging with other people. I believe it helps young people to identify their social and development needs and creates a safe space for them to explore who they want to be without being judged.
Find out more about the Roots of Our Community
OURIMPACT