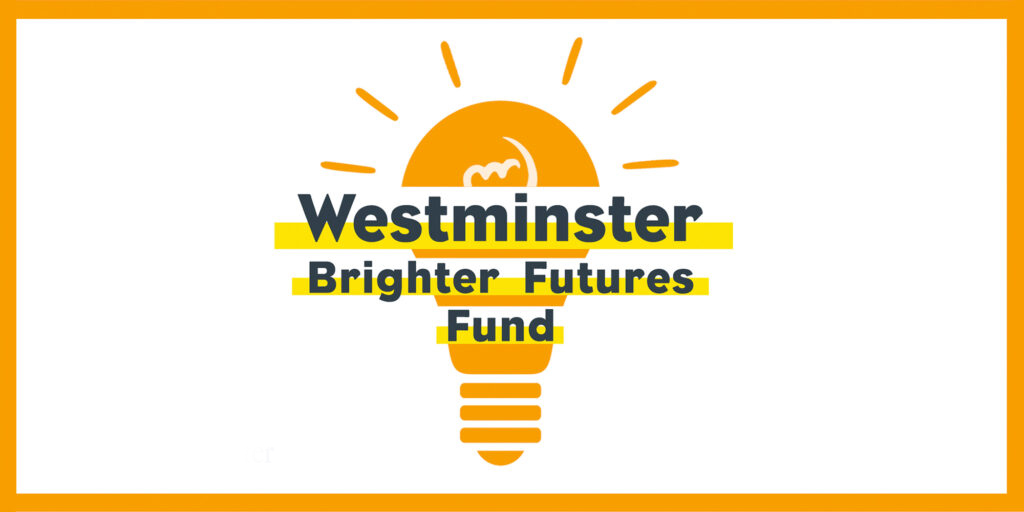 Young Westminster Foundation is pleased to announce that 28 grants totalling £354,000 have been awarded to youth organisations across Westminster as part of the fourth round of the Westminster Brighter Futures Fund. This investment will provide invaluable support for Westminster's young people and their families over the coming 12 months.
This year, the fund received a total of 52 applications totalling £1.2 million. The awarded projects were decided by a panel of local funders, partners and young people. This year's panel was chaired by Hazel Capper, Clerk to the Trustees at St Giles & St George.
Helen Mann, CEO of Young Westminster Foundation, said: "This support will directly enable and strengthen the fantastic work of our members, which in turn helps to enrich the lives of Westminster's young people on a daily basis. The sheer volume of applications received reflects the continuing challenges our sector faces, and the growing need for investment in local youth services. YWF would like to thank all funders for their generous donations and commitment to creating opportunities for young people in the borough."
This year's funding was made available by Westminster City Council with further contributions from The Aziz Foundation, Berkeley Estate Asset Management, British Land, Capco, Capital Arches Group, Derwent London, Eyre Estate, FM Conway, GPE, Grosvenor, The Howard de Walden Estate, John Lyon's Charity, Landsec, Shaftesbury, St Giles & St George, Veolia and Westminster Almshouses Foundation.
The Brighter Futures Fund is designed to respond to the needs of young people in Westminster as identified in our report Our City, Our Future. It also aims to encourage providers to work with Youth and Family Hubs across the borough and to sign up to Westminster City Council's Early Help Strategy 2022 – 2025.
The investment in youth services sits at the heart of Westminster City Council's ambition to create a Fairer Westminster and contributes to the growing community of like-minded stakeholders investing in young people in Westminster.
Cllr Tim Roca, Deputy Leader and Cabinet Member for Young People, Learning and Leisure, said: "I'm proud that Westminster City Council is once again supporting the Brighter Futures Fund to help young people and families across Westminster. This funding, awarded to a number of local youth organisations, will make a huge difference to young people in Westminster – enabling them to develop skills to forge exciting careers in the future, and also to engage in fun activities and make new friends."
The YYF Members who have been awarded funding for 2023 are:
2-3 Degrees
– 'Mastering My Future' programme support for young asylum seekers
Abundance Arts
– 'Include in Health – Year of Music' project at SEND school in Westminster
Adventure Play Hub
– Play provision for SEND young people
Al Ola Arabic School & Sudanese Supplementary School
– 'The Proud, Loud, Cultural Community Project'
The Avenues Youth Project
– 'Secondary Zone Project', a daily after-school project for local children aged 11-13
The Cartoon Museum
– 'Emergency – Challenge of Climate Change' creative project
Caxton Youth Organisation
– 'Youth Government Programme', amplifying disabled and autistic youth voices in Westminster
Central London Youth Development Trust
– Bollywood dance classes in Gateway Academy and Christ Church Primary School
Creative Futures UK
– 'Community Families' project, providing music-based sessions for families with children aged 0-4
Doorstep Library
– Reading projects in the Churchill Gardens area of the borough
Dream Arts
– Core staff costs for delivering community arts programmes in Westminster
Eat Club
– 'Eat Club Cooks' project in Westminster – developing the relationship young people have with food and each other
Family Lives
– 'Young Carers in Westminster', supporting families with children aged 0-5 and children aged 5-16.
Fitzrovia Community Centre'
– 'Chatterbox Project' – community-based speech & language (S&L) support
Fitzrovia Youth In Action
– 'Westminster Peer Education Programm' – youth-led models of peer education, for YP aged 17-25, delivered through outreach across the City of Westminster.
Floating Classroom
– Early speech & language support for children aged 18 months to 4 years
Grand Junction
– A summer term and holiday 'Takeover the Future' creative festival and a Notting Hill Carnival special
Happy Lizzy CIC
– 'Chill Vibes Social Club', providing a place for young adults to socialise and explore interests and hobbies
Let Me Know
– Workshops for young people focusing on domestic violence and relationship abuse prevention
Marylebone Bangladesh Society
– 'Junior Project', offering educational and recreational youth club programmes
Mousetrap Theatre
– StageXchange project, delivering bespoke drama workshops for youth groups
Platform Cricket
– Creating a 'pop-up' youth cricket hub for the Pimlico area of Westminster
Pro Touch SA
– Sports provision and activities including accredited training opportunities
Queens Park Bangladeshi Association
– 'Khusy Project', delivering free sport activities to improve the health and physical wellbeing of children and young people
Sport4Health
– Health and wellbeing support for young people in Westminster
St Andrew's Youth Club
– Costs for Digital Youth Lead and youth voice projects
St. Vincent's Family Project
– Focused support in South Westminster for families affected by the cost of living crisis
Unfold
– Mentoring for young asylum seekers and refugees in Westminster
If you are interested in supporting the Westminster Brighter Futures Fund please contact zahid@youngwestminster.com.