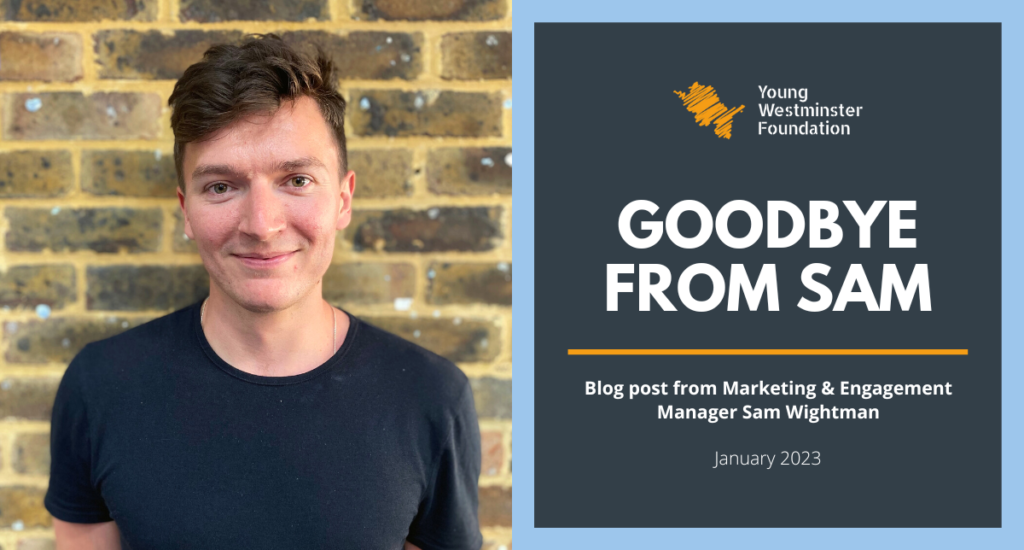 Our outgoing Marketing & Engagement Manager, Sam Wightman, reflects on his time at Young Westminster Foundation and shares his marketing tips for youth organisations.
After two brilliant years, it's a bittersweet feeling to be leaving YWF. I joined what was then a team of five in the midst of the pandemic with no real experience in the charity or youth sector, and it's safe that I now leave as a lifelong advocate for youth services.
I've been endlessly inspired by how generous Westminster's youth workers and staff are, and (alongside working as part of our own small but mighty team) it's been a real privilege to spend so much time with individuals who care so deeply about their communities. I think you can often underestimate what is meant when people use the term 'community', but I've felt a real sense of this, especially when we've had the chance to come together in-person, whether for training, networking and more recently when hosting our Youth Worker Forum sessions.
I am full of confidence that YWF will only continue to go from strength to strength over the coming months and years, and I look forward to hearing about all the updates and catching up with the team from my new role (which handily is still in Westminster – can't get rid of me that easily…)
So in the spirit of learning and sharing, I wanted to finish by collating some of my recommendations for youth organisations, focusing on how to make the most of your marketing and communications. Everybody does such amazing work for young people, and I know sometimes it can be difficult to find the time and capacity to shout about it as loudly as we'd like!
Here are six suggestions to think about, that I hope can be achievable for organisations of all sizes:
Get creative with your social channels – Keep young people front-and-centre of your online content. Their reviews are the biggest endorsement of your work, and they're also the natural experts when it comes to social media. Think about finding creative ways to involve your young people in capturing content – whether it's interviewing them about what they've enjoyed most or getting their ideas to join trends on TikTok.
Maintain a consistent brand – A clear visual identity for your organisation helps build trust and credibility. Look at creating simple guidelines to put in place for all print materials or digital content – logo, colours, fonts, tone of voice and straplines or haghtags – which can all effectively express your values to the general public. I recommend using Canva if you don't already, which is a really useful free online tool, helping even very beginners create professional looking designs.
List your projects on Our City – One of the projects I've been most proud of is launching the Our City website in partnership with Young K&C. We're thrilled that this is still getting thousands of visitors each month from families across Westminster, and that it's grown into such a well-used resource for our members. Make the most of this by getting some free additional promotion and sign-ups, as you are able to list your programmes yourselves all year round. Find more information about uploading your projects here.
Focus on storytelling – How can you best showcase your work and its impact to somebody who may never have heard of you before? This might be through creating clear online case studies about young people's journeys who have benefited from your services. Or consider commissioning a short film that can promote your organisation and its people in an exciting way. Investing in a one-minute video which introduces your work can be a valuable long-term tool for your communications. Media Trust also offer a great breakdown of charity films in their explainer video here.
Keep in touch through a newsletter – From funders, to parents, to alumni, it's essential to keep in regular communication with your stakeholders. Highlighting a few key successes and updates through a monthly newsletter on a platform like Mailchimp is great for helping them to stay informed about your work. Your database is your secret weapon for this (particularly when it comes to fundraising). But remember to ensure it is up-to-date and that contacts have explicitly opted in to receive newsletter emails, so you're compliant with GDPR regulations.
Take control of your Google listing – Searching on Google is the main way that members of the public will get key information about your organisation online, including opening times, website and contact details. Keep your business information on Google up to date, by creating a free account to manage these details yourself. Google also offer free advertising spend (up to $10k per month!) for not-for-profits via their Ad Grants scheme, which is a massive help for charities of all sizes to get their website standing out in search results pages.
And please do always get in touch with the team if you need more support with reaching families, funders or wider stakeholders.