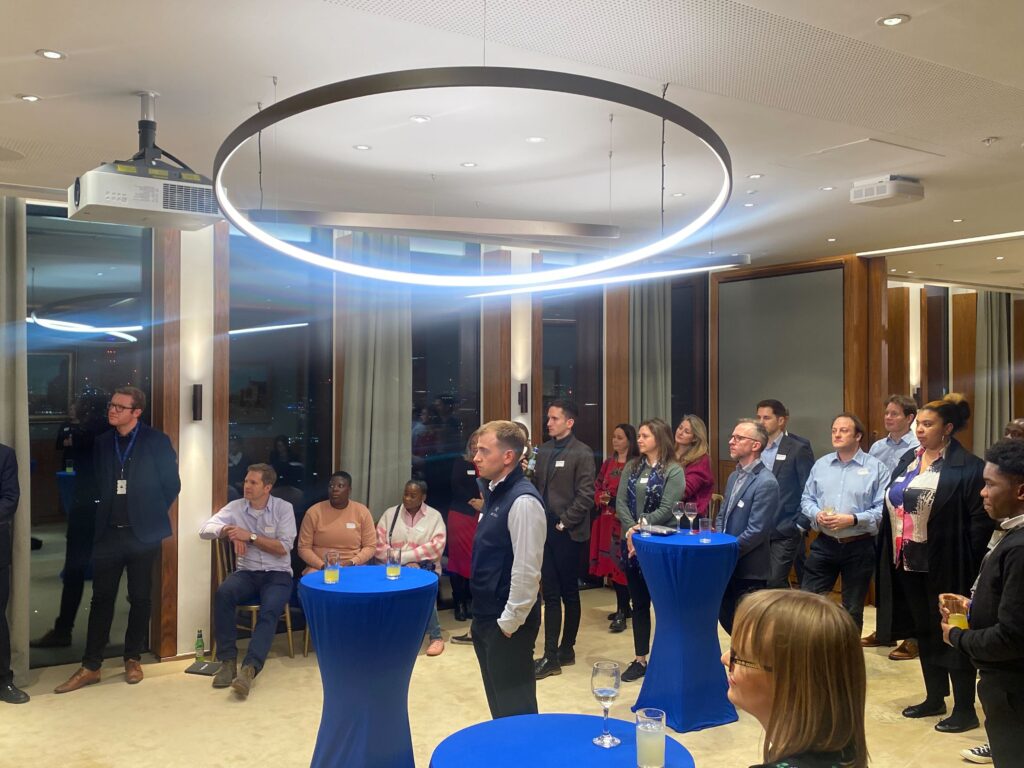 On Wednesday 11th January we welcomed businesses, funders, young people and partners from across the borough for a reception hosted by the Lord Mayor of Westminster to kick-start the new year; exploring partnership opportunities in support of Westminster's young people in 2023.
The event brought together our existing Growth Partners and new business supporters who want to work together to improve their ESG and social value impact.
Helen Mann, new CEO of Young Westminster, began the evening by thanking businesses who pledged their support for the Foundation's approach to facilitating cross-sector collaboration from the outset. The combination of financial investment and specialist skills from these organisations has enabled YWF to award over £1 million in grants to youth organisations over the past 5 years and ensure young people can benefit from high quality employability opportunities and mentoring through the flagship Mastering My Future programme, run in partnership between 2-3 Degrees, Unfold, Inspire and Westminster's employers.
Helen explained that five years on, the work of the YWF community is needed more than ever. Many of the challenges facing young Londoners have been accentuated by the cost-of-living pressures and the pandemic. Finding secure employment remains difficult for young people, as does finding housing. All of this has led to young people reporting increased anxiety in living their lives, placing increased pressure on their own mental health. Youth organisations report huge increases in energy bills, to upwards of £50 000 per year.
Funding is not going as far as it used to, with grants programmes hugely over-subscribed. YWF's annual Brighter Futures Fund received over £1m in applications in 2022. "The sheer volume of applications received reflects the continuing challenges our sector faces", said Helen.
2023 offers plenty of opportunities for working together more effectively, Helen explained. Building upon existing relationships with corporate partners to grow the number and diversity of organisations supporting young people to grow up healthy, safe and happy. Helen identified three ways businesses can get involved:
Introduce YWF to partner, customer or client
Consider how you can work with us in new ways – hosting an event or work experience placement
Host the YWF team to raise awareness of the issues facing young people locally with your staff teams
Becca Rawlings, Head of People, Culture & Business at Total Media, was next to speak, sharing Total Media's experience over 4 years as a YWF Business and Growth Partner.
Total Media is the first independent media agency in the UK to become B Corp certified, their partnership with, and support for, the YWF community being a key factor behind achieving this certification.
Becca said "a real partnership benefits both sides, don't shy away from that. Our partnership with YWF has real tangible business benefits, from being able to attract the best talent to winning new clients due to our B Corp accreditation and community led approach. So when I go to the Board for finance or support they are completely onboard and invested".
Becca offered the following advice for businesses in the room:
Before on embarking on a charity partnership, reflect on what you have to offer and what you want to gain. As well as considering local need and priorities. "We don't do anything for the sake of doing it (painting walls that were painted last year so you can get a photo opportunity) we listen to what the community need".
What you have to offer will be specific to your workforce. In some instance it will be donations and fundraising. If you are a large organisation, match fundraising is huge. But in other instances, it would be finance skills, property you can lease, legal services offered for free, creative services, IT supplies.
Benefits will be wide ranging – from impact for young people and local communities to motivating your workforce to more diverse recruitment. Shout about and celebrate all of these to encourage other organisations to follow your lead.
Finally, Deputy Leader & Cabinet Member for Young People, Learning and Leisure at Westminster City Council, Cllr Tim Roca, encouraged Westminster's businesses to engage with YWF and the Council's Economy Team to grow meaningful partnerships. Innovation and new approaches are needed when facing challenges such as the cost of living. For example, Westminster City Council will ensure all children attending state-funded primary schools in Westminster will receive a free school lunch – saving families up to £550 per child, per year.
The council recently announced a new package of support totalling more than £10million to support its most vulnerable residents.
A quarter of young people in Westminster feel anxious about their future, their job opportunities, housing and the rich/poor divide (Our City, Our Future). We are encouraging businesses of all sizes and from all sectors to get involved the Young Westminster community and contribute to providing life-changing opportunities and exposure for young people in Westminster.
Thank you to all who joined us, we look forward to welcoming you in April for our Spring Business Reception.
Get in touch with YWF's Business Development Lead Zahid Nawaz on zahid@youngwestminster.com to explore ideas for partnership in 2023.